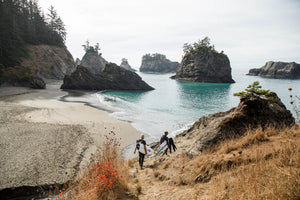 Our Commitment
Since OTIS was founded in 2000, we've always used mineral glass lenses that are scratch resistant, optically correct and endlessly recyclable. As part of our sustainability mission, we also had a vision to offer eco options that are as kind to the planet as our lenses are.
Mineral Glass
Mineral glass is created from natural elements like sand and soda ash. It's endlessly recyclable and harmless to humans and animals alike. Its optical clarity, high resistance to scratching and lack of distortion makes it the ultimate lens material.
Eco-Acetate
Our Eco-Acetate frames are handmade from renewable sources widely present in nature. Derived from cotton seeds and plant matter, Eco-Acetate is recyclable, biodegradable and eco-friendly. By being biodegradable, it helps close a circular economy, feeding the earth at the end of life for more natural materials to be grown.
Eco-Grilamid
Light, Strong and made from over 50% natural resources. Our Eco-Grilamid frames are made from a bio-based material that's better for the environment than regular plastics. Its main ingredient, castor oil, comes from plants grown in semi-arid areas that don't compete for land used in food production.
Better For All
OTIS is proud to announce we are now B Corp certified. As a B Corp we're part of a global community of businesses that meet high standards of social and environmental impact.
We proudly accept the responsibility this gold-standard expects from companies to genuinely use their business as a force for good with their people, their products, and the planet.
Packaged Better
We've eliminated plastic in our packaging, using a special cloth wrap and recyclable card instead. Every OTIS style comes in an eco cloth and pouch made from recycled PET.